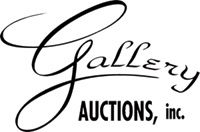 Weekly Auctions of Exceptional Items
Upcoming Auctions
Reviews
Past Auctions
Record Results
Upcoming Auctions from Gallery Auctions
Bidder Reviews for Gallery Auctions (25)
8 Latest ReviewsSee All
Buy with confidence!!!
I am a repeat buyer from Gallery Auctions. They have THE most amazing quality pieces from Europe. I usually have bid absentee when they had open auctions. With COVID, it shifted to online. I was a bit nervous about bidding but that perfect piece was calling my name! I bid and won a gorgeous English dresser. Everyone there is SO nice. It was their great attitude that brought me back again and again. I cannot say enough good things about this business. Such quality furniture is not made anymore so I am happy to browse and bid with Gallery Auctions!!
We are a long time satisfied Gallery customer.
We have always enjoyed buying from Gallery. Vikki has a knack for finding the most creative and high quality items. In my case I adore the fun and quirky items that they usually have mixed into the Lots. I especially appreciate the honesty Vikki and her associates bring to the table as both a buyer and occasional seller.